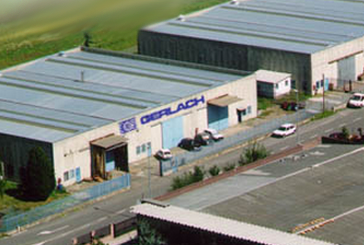 Our company is one of the world's most important manufacturers of chains, clips and pin links for stenters, with a 40 years experience and a sales network covering the largest market share.

We only use top quality materials and we grant particular importance either to high precision or steady quality standard.

Thanks to our company philosophy , we have gained confidence of European and worldwide leading stenter manufacturers, which we supply with :
- more than 120,000 clips
- more than 120,000 chain links a year
- as well as lube-free chains with specially built materials
We also produce transport chains with long life lubrication provided of special synthetic bushes,lasting up to 30,000 hours of operation , and chains with operation temperature up to 300°C.
GERLACH GERLACH QUALITY STANDARD offers the following advantages :
- oustanding stenter clips precision guarantees perfect closing for very thin fabrics as well as high operating temperatures;
- all clips are built with selected die-cast and chill cast aluminium alloys;
- extended duration thanks to decades of experience in the field.

GERLACH PRODUCTION LINE also includes:
- Malleable cast iron vertical chain links with fabric holder
- Needle plates in all versions
- Graphite and synthetic rails for chains guides
- All parts made with lube-free material

GERLACH can also produce any kind of special clip and chain, to fulfill customers needs.

GERLACH production range also includes SPECIAL CLIPS AND TRANSPORT CHAINS FOR PLASTIC FILM STRETCHING MACHINES , AND PLASTIC APPLICATIONS